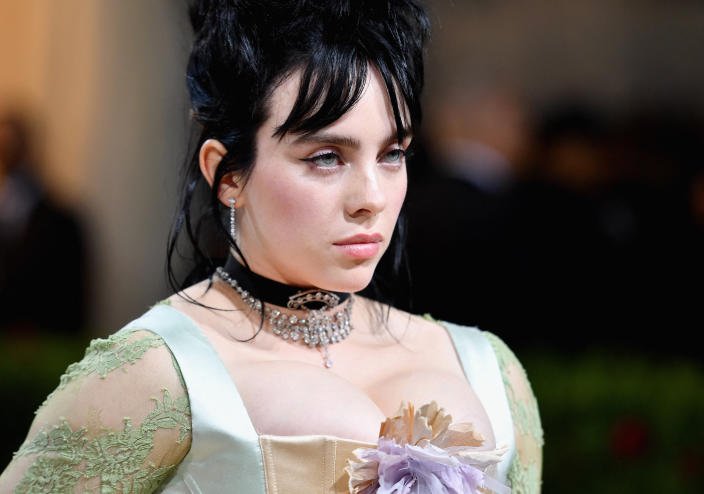 Billie Eilish is finally comfortable with herself. However, it's been a challenging road for the 20-year-old singer, who has struggled with her body image.
The "Getting Older" singer told The Sunday Times that while her current relationship with her body is "going nowhere," it has improved recently.
"My relationship with my body has been a very scary, scary thing since I was 11," Eilish shared, citing the age at which she was diagnosed with Tourette's. "I love that my body is mine and that it's with me wherever I go. I feel like my body is my friend. My ugly friend! It's a complicated situation. But what are you going to do?"
At the beginning of her career, Eilish was immediately recognizable through her baggy clothes and dyed neon green hair. But the public didn't always respond positively to her unconventional style.
"Whatever you do, it's right or wrong," she told the British newspaper. "No one was attracted to me in baggy clothes, I felt very unlovely, unsexy and unattractive, and people would be ashamed that you weren't feminine enough."
Eilish did shock the public when she appeared on the cover of British Vogue in a pink corset with her hair dyed platinum. Although the issue caused a stir on social media, people still found a way to attack her.
"Then you wear something more revealing and they're like, 'You're such a fat cow whore.' " she recalls. "It's a crazy world for women and females in the public eye."
Despite being loved by millions, Ellis says she "honestly would never feel desired."
"I do have this fear that I feel so unpopular that I might try too hard to be unpopular sometimes. It makes me sad to think about it," she admits.
As a child, Eilish struggled with "severe, life-altering separation anxiety. Unable to leave her parents, she couldn't even sleep alone until she was 11.
"If I woke up and my parents weren't in bed and the lights were off, I would scream until they came to the door. And I couldn't get out of bed in the dark because I was sure there were scorpions crawling all over the floor," she shared.
These days, she spends a fair amount of time at her parents' house. She says she "hates" being alone, and she also has "stalking issues" that have made it scary for her to leave the house in the past. Fear consumed her and she was afraid she would "never be able to do anything normal.
"I wanted to do all these things in my life – like walk around, go to coffee, go to restaurants and go to the park – and I thought I would never be able to do that," Eilish explains. Eilish explains.
Fortunately, the Academy Award-winning songwriter found her comfort zone last year, saying she's "more open to the world of 'doing. I no longer have to convince anyone that I'm already something."
"It's really vulnerable to put yourself out there in that way," she says. "It's all these secrets about me, it's all these insecurities that I have, it's all the things that I keep to myself."