Qualcomm has aggressively developed and integrated generative AI capabilities across its extensive semiconductor line for the past few years. For those few people who have been entirely off the information grid, AI uses intelligent algorithms to produce new and original material, such as photographs, images, movies, and music, based on data already present.
Qualcomm's generative AI strategy embraces this technology to improve different facets of its goods and services. The company says its technologies can carry out a wide range of extraordinary use cases, but doing so locally on the smartphone adds far more value, specifically from a cost-per-query and scalability standpoint.
With that as a backdrop, let's discuss Qualcomm's capacity to build a hybrid AI function that extends from the device to the cloud.
The conversation about this potential was started by Qualcomm earlier this year at Mobile World Congress. This approach necessitates specific, distinctive hardware modifications and substantial software adjustments resulting in a large model known as Stable Diffusion, a deep-learning text-to-image model introduced in 2022.
The main application of Stable Diffusion is to create detailed images based on text descriptions. Still, Stable Diffusion can also be used for other tasks like image repair (inpainting) and modifying AI-generated images outside the original image's boundaries (outpainting).
It's crucial to note that parameters are the baseline foundation of machine learning algorithms that enable functional gen-AI applications. They make up the portion of the model trained using past data. Generally speaking, the relationship between the number of parameters and sophistication has held up surprisingly well in the language domain. The approximate amount needed in the past for gen-AI-style apps was in the 10 billion parameter area.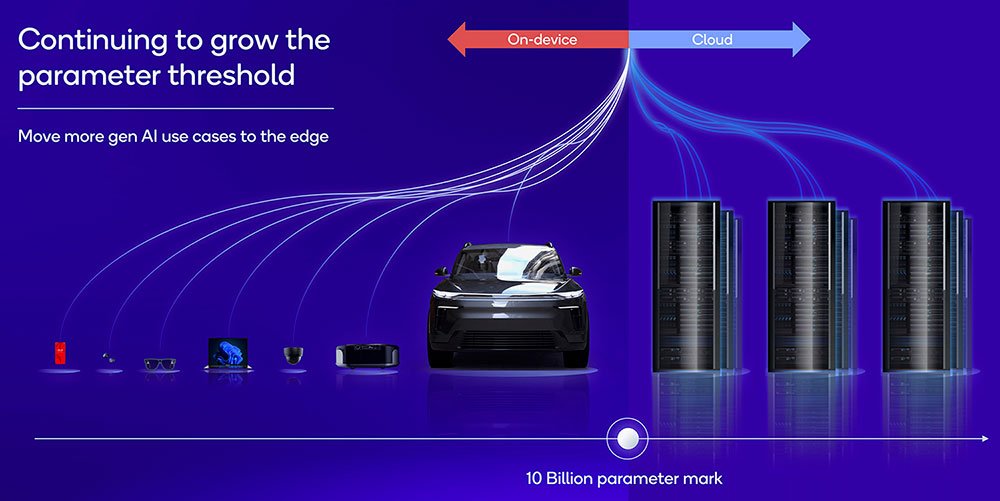 Qualcomm's AI silicon brings artificial intelligence capability to edge devices, including mobile phones, tablets, and PCs. (Image Credit: Qualcomm)
---
Stable Diffusion for On-Device AI
According to Qualcomm, its implementation of Stable Diffusion requires just 1 billion parameters that are squeezed into a device the size of a smartphone. This Stable Diffusion accomplishment enables users to enter a text query and produce a picture locally without using the smartphone's internet capability.
Since Qualcomm's demonstration was operating in airplane mode, all the data necessary to produce that image from the text query was stored on the device. Stable Diffusion is the go-to model in Qualcomm's eyes because of its enormous size and training derived from a large amount of data — it can genuinely understand concepts that are incredibly vast in scope and are not restricted to a particular or small set of topics.
Currently, Qualcomm claims to be the only firm capable of enabling this model to function on Android-based devices. Parameter models continue to get smaller, enabling compelling gen-AI apps to operate solely on a device. If you continue along this line of thought, comparable generative AI use cases can be performed on all types of mobile devices.
From a platform perspective, scalability is the name of the game for Qualcomm, as few other businesses have a comparable legacy reach into devices throughout the end-user device ecosystem. Qualcomm's "established" Snapdragon base is now more than 2 billion devices, including many without internet connectivity.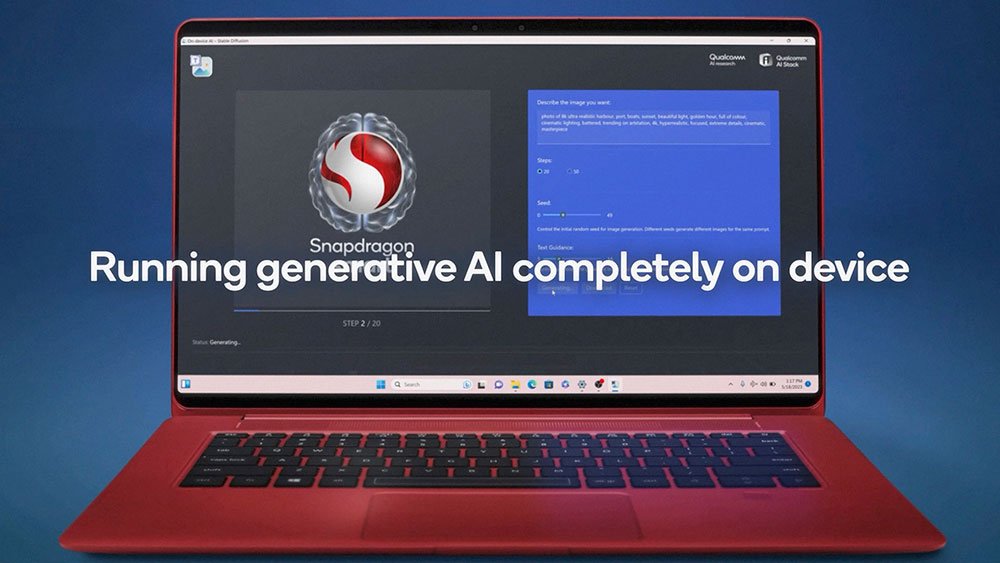 Gen AI can now run on mobile devices without internet connectivity. (Image Credit: Qualcomm)
---
Benefits of Qualcomm's Generative AI Approach
Qualcomm has distinct advantages thanks to its history in the smartphone industry, even though Nvidia frequently dominates the news in the AI sector.
Qualcomm can utilize its generative AI to produce more immersive and realistic content, enhancing the user experience. For instance, augmented reality (AR) applications may create high-quality photos and videos, enhancing the user experience and making it more participatory.
Additionally, Qualcomm's capabilities provide businesses with essential advantages for product testing and development. Qualcomm can simulate and create realistic models for testing and development using generative AI, which may speed up the design process, save expenses, and increase the effectiveness of product development.
Moreover, Qualcomm's OEMs may benefit from the untapped potential of personalization in the realm of AI, while Qualcomm solutions may provide consumers with tailored experiences that leverage generative AI.
It's easy to see how Qualcomm's solutions may contribute to creating specialized suggestions, unique user interfaces, or adaptable answers based on individual preferences and behavior patterns.
Qualcomm Must Tell Us More
As most of my readers know, I've been raising awareness of the ethical issues surrounding using general artificial intelligence. Numerous moralistic issues are raised by generative AI, particularly in light of deepfakes and the possible exploitation of AI-created material. Qualcomm must ensure that users of its generative AI technology act ethically and within the bounds of the law.
There are reasons to worry.
When I recently asked a CEO with a text-to-image gen-AI program if the company's terms and conditions mandated that material created include permanent watermarks or metatag fingerprints, he acted dismissively and answered negatively.
At a recent technology conference, a prominent CEO raved about the prospect of gen-AI-style applications handling "laborious" staff performance assessments. The number of lawsuits that will follow if the latter happens is unimaginable.
Nevertheless, on a recent analyst call with Qualcomm, the company seemed to understand that it needed to take an ethical leadership role in this field, suggesting it would reveal considerably more information on this topic at subsequent conferences.
The company admits that it wants consumers to maximize gen-AI capabilities on its devices. Still, it also claims how critical it is to distinguish between original material and the content that gen AI has modified.
It's not difficult to conceive that facial authentication, for instance, might convincingly play a part in minimizing this issue on this front. However, there are biometric hardware features that might be useful as well.
A Brave, New World. But Will We Be Safer?
It's undeniable that Qualcomm's emphasis on gen AI and continuous work to integrate this capacity into the company's extensive silicon portfolio have the potential to alter the technological landscape as we know it altogether. The productivity and time-saving advantages are actual, significant, and practically incomprehensible.
The potential is enormous since Qualcomm can now robustly run these kinds of apps on smartphones and other mobile devices, including PCs, without an internet connection. The potential for information distortion and privacy invasion is also painfully clear.
Qualcomm must protect user data and follow strict privacy laws to alleviate these worries, and ensure that any personally identifiable information (PII) utilized in developing or deploying generative AI models is suitably anonymized to prevent individual identification.
In addition, before collecting or using user data for generative AI purposes, Qualcomm must get the user's express approval. Open communication regarding data usage, sharing, and storage procedures is essential to keep users' confidence.
Security and Ethical Challenges
Qualcomm must implement strong security measures to protect user data from unwanted access, breaches, and potential abuse, especially in the context of generative AI. Access restrictions, encryption, and regular security audits are all part of this. Qualcomm can increase user confidence and ensure its gen-AI solutions respect user privacy by incorporating a thorough privacy plan.
I also advocate that Qualcomm mandate its OEM partners, who incorporate their next-generation artificial intelligence solutions into their consumer goods, to require consumers to disclose when AI created any content from such devices.
There will be a tendency to place the weight for this disclosure entirely on device makers, who will expect end users to bear that obligation. Still, I'd like Qualcomm to take a public leadership position on this topic.
Sadly, over-relying on generative AI technology may devalue human creativity and intuition.
I'm petrified at the prospect of images and videos created by generative AI that will likely be used by both sides of the aisle in the forthcoming presidential election because they will make it nearly impossible to tell fact from fiction.
Qualcomm must establish a balance between automation and human engagement to ensure the creation of novel and valuable solutions. This aspect of gen AI is Qualcomm's opportunity.