Welcome, dear friends, to Gadget Dreams and Nightmares, the column that's distracted itself from the shellshock of the election just long enough to cast a beady eye over the latest gadget announcements.
Spied from inside the comfort of a warm blanket this time around are a curved monitor, a robot with Alexa integration, and a cloud-based DVR from TiVo.
As always, we are sworn to inform you that these are not reviews, and the ratings reflect only how much I'd actually like to try each, assuming my nerves hold up long enough to handle any gizmos.
Around the Bend
A little more than four months after moving to a new apartment, I'm at long last about to start setting up my office. Goodbye, Ikea dining table. Hello, fancy new desk. When I actually have my new setup, I'd like to have a monitor at long last to complement my laptop. AOC's latest is under serious consideration.
The AG352QCX, pictured above, is a 35-inch, curved behemoth with two USB 3.0 ports, one HDMI 2.0 input, VGA, DVI, audio in and out ports, and DisplayPort 1.2. That's plenty enough for most people's purposes, though a second HDMI port would have been welcome.
Do note that when I say I'll have an "office" for "work," I fully intend to spend plenty of time in that little nook playing games as well, so a monitor designed for interactive action is high on the priority list. The 200-Hz refresh rate and 4ms response time, along with FreeSync (which smooths gameplay and reduces screen tearing), should help make sure I get the bad guys before they get me.
The 1080p resolution is not fantastic for the price — Pounds 699, approximately US$866 — when we're edging toward 4K and Retina displays becoming commonplace. That's more a concern for desktop usage, though. The lower resolution will be less noticeable for high-refresh rate gaming taking up the entire screen.
It fits my needs, giving me extra screen real estate while working, and a monitor on which to play games in the off hours. It's probably a little too large for me, though, even if the curved screen does look great.
Rating: 4 out of 5 I'm Working, Honestlys
Rolling Robot
Regular readers may note that there is virtually zero chance of me giving a low rating to a cute robots with giant eyes, even if those peepers are on a screen and not physical eyes.
Omate's Yumi has a 5-inch display for a face and can show different expressions, while it has a light ring to alert you to notifications. More practically, it has Alexa integration: A microphone and speakers let you issue commands and receive feedback from Amazon's personal assistant.
It has wheels, so it is somewhat mobile. Unfortunately, it can't rotate its head, and while there's a camera for video calls, Yumi needs to stay in place for that, so you can't chat to a relative through the robot while walking around your home.
The little cherub is winsome and with the helpful Alexa integration, I would not hesitate to bring one home. Still, there are better-looking alternatives already on the market, and I suspect plenty more are on the way.
Rating: 4 out of 5 Adorabots
TV Everywhere
Less of a product announcement than a leak, the first few details of TiVo's cloud-based DVR have seeped into the world. It seems the Mavrik saves all the shows you want to watch later in the cloud, and you'll be able to stream them whenever you want.
Certainly, there are streaming services around, like Hulu and HBO Go, which provide consumers a way to watch shows soon after they air. These services are decentralized, though, and without paying for a whole bundle of them, it's unlikely you'll find it easy to watch all of your favorite shows.
A system like Mavrik should cut out the wait time, and save the shows you want instead of relying on each service's cherry-picked portfolio — as long as you have the cable package to match, that is.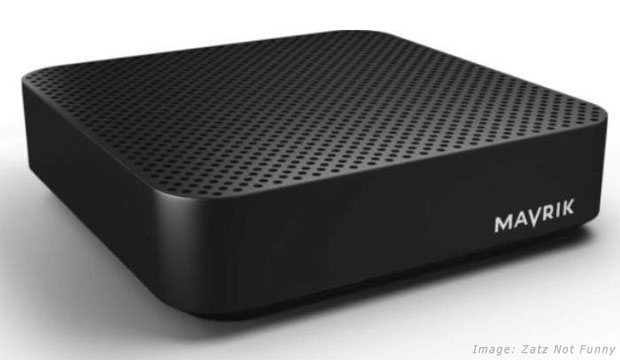 The box connects directly to a TV antenna, according to the leak, though it appears you can stream both live and recorded shows and movies using an app. Mavrik would have been dead on arrival if TiVo didn't allow users to stream content to whichever device they prefer to watch on, so in-app streaming is heartening.
There are other cloud-based DVR systems around, though none really have the brand value of TiVo, meaning this could become a commonplace setup in relatively short order. It will require a subscription, of course, but the likely utility of Mavrik just might make it worthwhile. The cost of the subscription plus a cable package nullifies the convenience for me, but it just might stick for others.
Rating: 3 out of 5 Bad Sitcoms